Your rollers, our passion.
class="sl-slide-inner">

Your rollers, our passion.
Since 1955
Warca | Rubber - Silicone - Poliurethane rollers
History
Warca, innovation through tradition...
In 1955 two craftsmen began to produce the first "rubber rollers", which were made of a gelly-looking paste resulting from the mix of ox's bones, glycerin and sugar: there and then Warca was born.
The business reached large scale objectives through the years, that brought the consequent refinement of the production techniques. New materials such as "synthetic rubber" and silicon were introduced, in order to support to the most complex industrial needs.
From 2009 the Warca team has been built up and strengthened, through a management change. New young and dynamic ideas matched with the experience acquired in the past and the teamwork of world famous chemist industry, allowed the company to develop the necessary knowledge to cast poliurethane items keeping a thread with the artisanal history of the product, which guarantees high quality standards.
Warca, innovation through tradition.
Products and services
ROLLERS & WHEELS IN RUBBER, SILCONE AND POLIURETHANE
Our manufacturing styles:
- Heated coating through autoclave cooking of rubber, silicon cylinders and wheels.
- Poliurethane casted coating on cylinders and wheels.
- Rebore of cylinders also with extra fast service.
- Special details (bulging and conic), groove milling, threads and stabilizing service.
- Manufacturing of the metal core of the cylinders from given drawings.
We can make coatings, starting from the tiniest dimensions and reaching a total diameter of 1500 mm and a maximum length of 5300 mm.
WORKING SURFACE
MECHANICAL WORKS
Thanks to the mechanic laboratory available, we offer the possibility to have mechanical details made, such as milling and production from given drawings, reparations (eg. used shafts sites for bearings), production of special gearwheels.
Materials
HARDNESS SCALE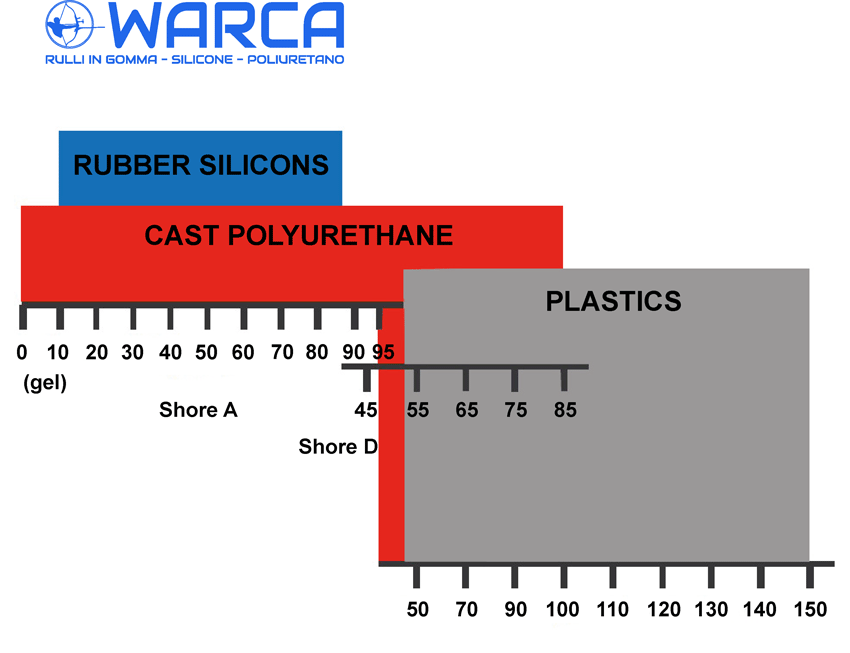 Sectors
Contacts
WARCA RULLI S.R.L.
Viale Austria n. 7/A
35020 Ponte S.Nicolò - Padova - ITALY
Tel. +39-049-8159978
Fax +39-049-8159979